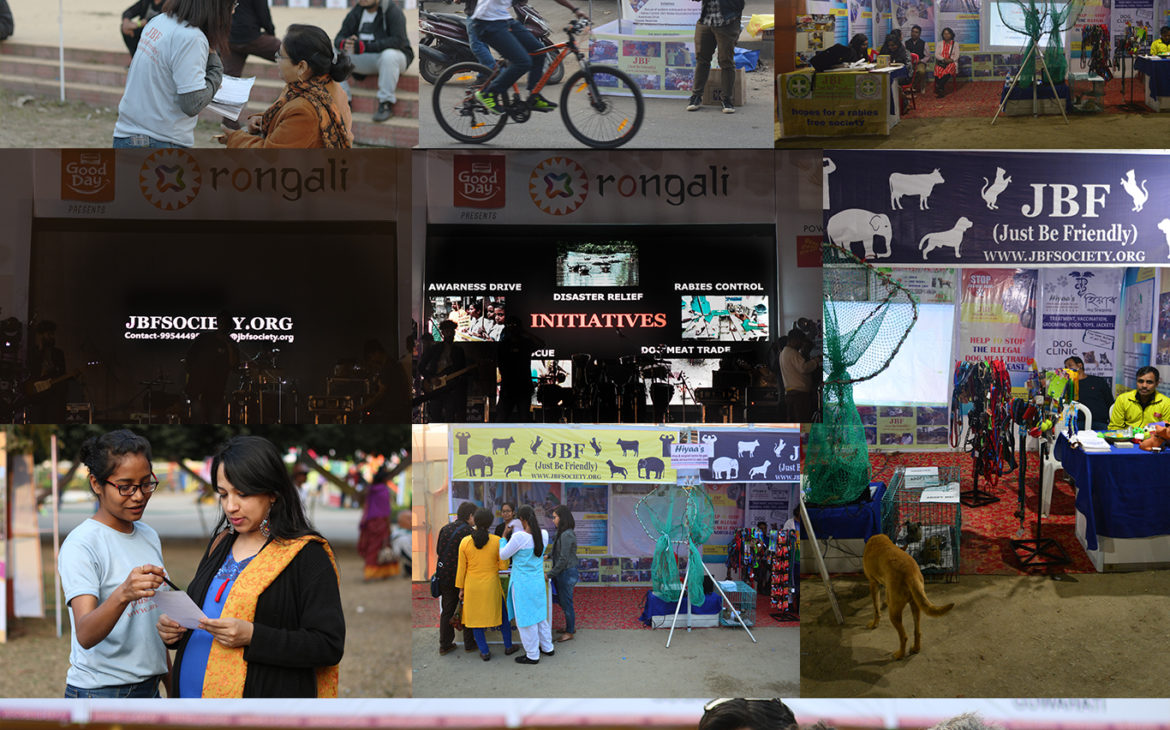 Rongali, one of the biggest cultural festival of North-East, was once again back in Guwahati at Sankaradeva, Kalakhetra on 19th, 20th, 21st January 2018. People from different corners of North Eastern region participated in the event with high spirit and excitement. Rongali 2018 proved to be much more grand and majestic than 2017 with popular artists from across the world such as Papon, Nucleya, M Brothers, Neel Akash & Kussum Kailash, Arujun Das, Anaya Brahma & Astitva, Raghu Dixit project, The Local Train, and many other regional artists like Zubeen Garg, Zublee Baruah were the main attraction.
Team JBF this time came forward with the stronger initiative to make the people aware of animal welfare and other related activities of JBF. JBF stall was also the main attraction at Rongali, for all the animal lover displaying banners on various issues to express love and compassion towards animals. Leaflets were also distributed during the fest to various visitors making them aware of JBF along with the prevention of a deadly disease called rabies. Many other interesting programs were arranged in the JBF stall making this year's Rongali more appealing and attractive like photo exhibition, video projection, discussion session, awareness campaign and awareness about adoption.
The most notable thing was hundreds of people visited JBF stall putting forward their interest in animal welfare and an enthusiasm to take initiative toward building a better society for the animal too. From the response received in this 3 days event, it is clear that people are getting aware and also developing a positive attitude towards animals and their problems at large.
Hiyaa's (clinic & surgical centre for pets) was also a part of JBF stall where they displayed various dog products like dog food and other accessories for sale. Profits made from the products sold by Hiyaa's (clinic & surgical centre for pets) in Rongali was donated to JBF for animal welfare.
This three day initiative from JBF proved to be a great success in various grounds and JBF is planning to conduct many awareness campaigns wherever and whenever necessary to make people aware and bring together for collaborative service toward animal welfare.