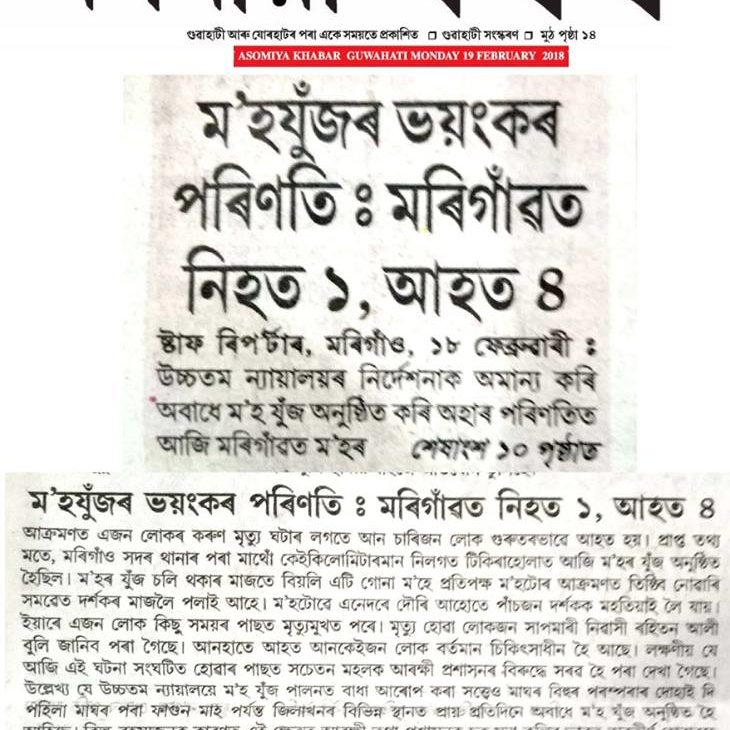 Asomiya Khabar Newspaper, Guwahati 19 FEB 2018:
Not respecting the order from Honourable Supreme Court there were buffalo fight conducted and during this fight one person died and four were seriously injured. This incident happened in Tikira Holla village, only few km away Morigaon police station. One Buffalo hit the audience while escaping in between the play, attacking 5 people among the audience.
Shri Rohiton Ali was from Satmari, who came to watch the play and unfortunately died on the spot and four of them are admitted in the city hospital.
The people of Morigaon started the protest against police being careless about their responsibility and putting lives in danger. In the name of tradition/culture, such crime is going on in many places in the district since mid January but interestingly police is not doing anything because of some hidden reasons. Some people say that gambling is going on in the name of traditional buffalo fight. People are now starting to request administration to stop these activities.